The Best Warming Items for Outdoor Spaces For 2022
As the months get cooler, you might begin to worry about staying indoors all day sipping hot tea and missing out on the fun outdoors. Warm months are fun to frolic outdoors, but even cooler months don't have to be boring. A collection of the best warming items for outdoors can make a lot of difference in your outdoor space. You can make the best of your porch, balcony, or patio to host friends and spend time with family, even during the cold season, by tweaking the temperature in your space.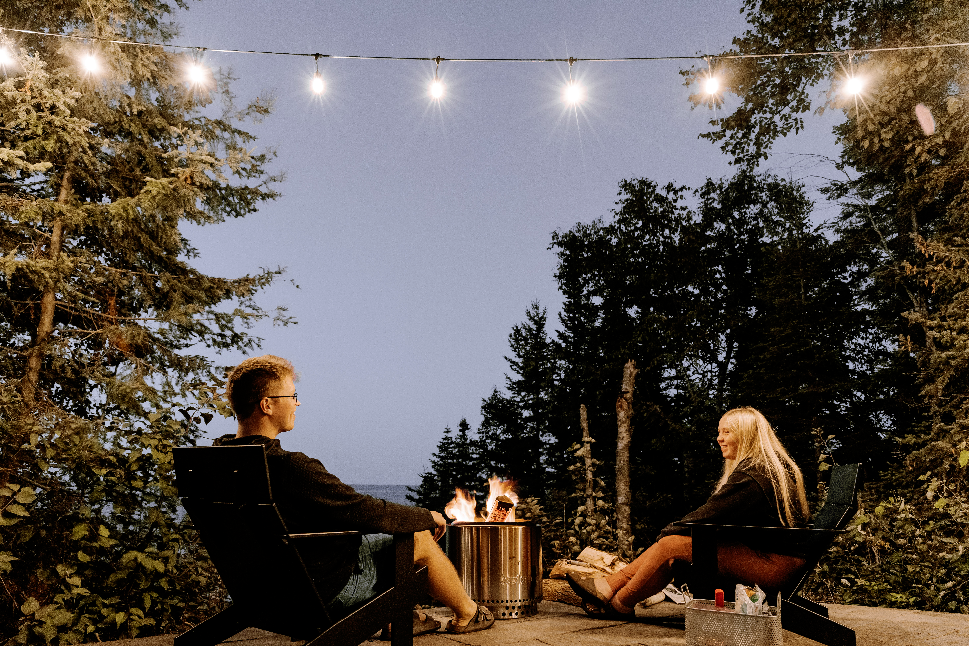 Perfect items to warm up your outdoor space
A variety of items are available to keep your space warm and allow you to spend time outdoors comfortably, even when the weather is chilly. Autumn and winter come with a dose of beauty that's best enjoyed outdoors than having to observe them from your bedroom windows. Combining one or more of these items can significantly improve your outdoor aesthetics while still giving it a cozy feel.
Fire pits:
These come in various shapes and sizes, and you can easily find something that works with the configuration of your space. The shapes range from round to cylindrical and rectangular and are often of varying heights. They make great statement pieces in your outdoor space if you intend to sit around them or strategically position them in various corners to supply heat. 
Fire pits are fueled using various heating sources, but more modern types use propane gas or electricity to supply heat. Traditional fire pits require you to light charcoal or firewood for heat. However, it could easily mess up the patio or leave smoke smears on your clothes. Propane gas fire pits are more energy-efficient and are a cleaner heating source for your space. Unlike traditional fire pits, they're easier to manage, control the intensity of the flames, and easy to clean.
If you don't have the luxury of space outdoors, you may use an outdoor tabletop fire pit. It's easy to use, as all you need is a surface to put it on—a table, in most cases. The tabletop outdoor warmer allows you the flexibility of positioning as it fits your need. It radiates heat upward and is a great way to keep warm around a table or centerpiece.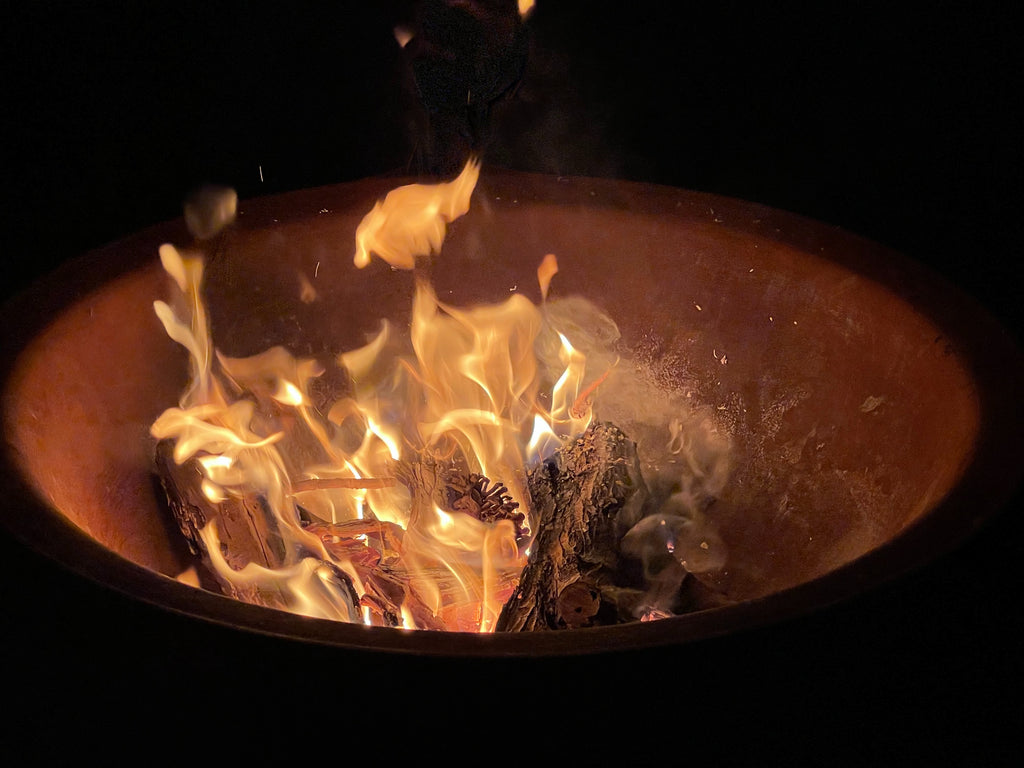 Fire table:
A fire table is a heating unit that combines the function of a fire pit and has a sufficient surface area to take meals and place various items. Like the fire pit, they come in various designs, and you can always find one that works with your available space. The fire pit features a heating center, where heat is supplied via a heating source—propane or electricity. Suppose you're looking for a brilliant aesthetic design for your space. In that case, the propane gas fire table is a perfect option, because it uses clean energy to supply warmth without drawing on your power supply.
The fire table is perfect for open or enclosed outdoor areas, and many designs offer smart flame management that allows you to control the heat supply and the size of the flames. This way, you maximize the gas and use a small quantity when fewer people are sitting around the table. The brilliant glow of the fire stones in flames is also worth noting, as it contributes to the cozy and relaxing feel around the table.
Patio heaters:
If you've been thinking, "How do I warm a patio near me?" and you don't feel comfortable around open flames. You may use patio heaters as an alternative heating option. They are fueled by propane gas or electricity, depending on the model. They are also great for supplying heat to your patio. Like the other options for outdoor heating, they come in various designs and can be combined with other heating options as the months get colder. 
A patio heater supplies warmth by radiating heat energy to your space from its energy source. Once the heat comes in contact with you, you feel the warmth. You may use a hanging, wall-mounted, or hanging patio heater to keep your space warm. Most patio heaters have a mushroom-shaped pyramid design that allows heat to radiate downwards instead of getting lost in the surrounding air. Most models offer smart heat management that allows you to manage the heat intensity as it suits your needs.
Chimneys:
This is a more traditional heating option but still relevant for various country homes. It's a tall-standing structure within which you may burn firewood or coal as a source of heating supply. Chimneys are becoming gradually modernized with various custom designs. They are great for warmth and can be a good source of naked fire to roast food outdoors. It effectively controls the embers from the naked fire from escaping into the atmosphere, unlike the traditional fire pit, except that it gives off smoke and requires constant cleaning after each use.
Must-have items for a cozy outdoor space
Now that you've figured out how to warm up your space, you should also consider items to make your space cozy and comfortable outside.
Patio conversation sets:
What's a stylish patio without cozy conversation sets to go with it? Regardless of your space configuration, there's something that works for you. A 4-piece or 5-piece conversation set can add some functionalities to your patio, depending on the frequency of use. The number of people using it can also help you decide what to go for.
If more people use the space, you may get a 7-piece or 10-piece set. The 4-piece set is often a combination of a coffee table, an armless chair, and a loveseat. Our conversation sets are perfect for winter and autumn and made with handwoven wicker that would last through many seasons. If you're looking for a combination of style and comfort, the seat provides comfy support for your arms, back, and legs without compromising on aesthetic appeal. 
An outdoor dining patio set is great for having your meals outdoors, especially during dinner when everyone is home from work. You could also use it as a daytime hideaway from the activity indoors when you need time alone.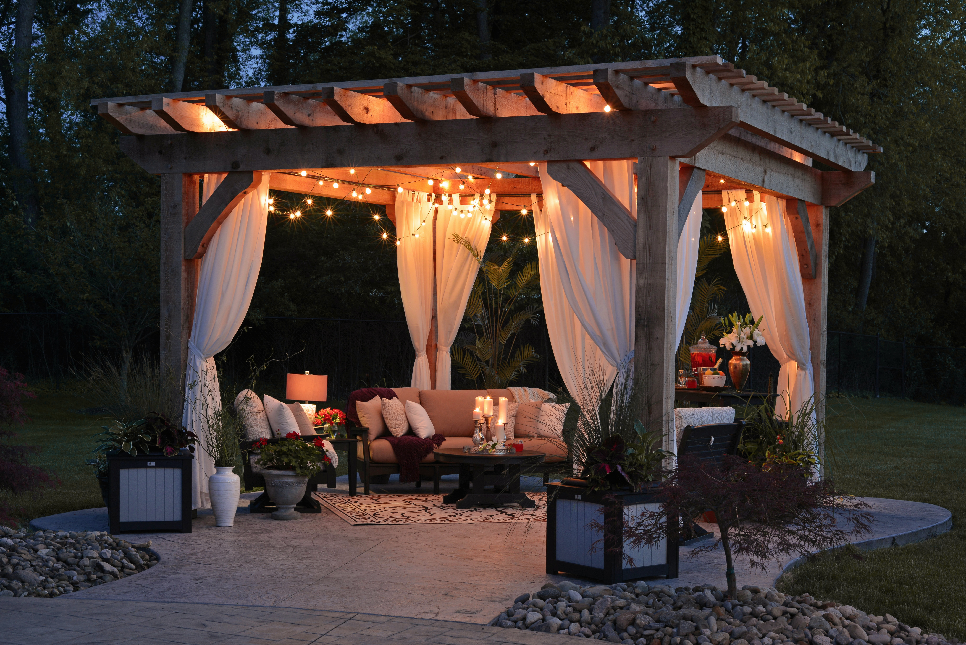 Lighting:
Also, a great source of warmth, it can add a brilliant decorative twist to your outdoor space and make it come alive. When you think that most relaxation centers in your locality use great lighting, you can easily replicate the relaxing feel in your space. This way, you can create an unwinding zone in your patio or backyard. Although it's just lighting, it's likely to save you more bucks than you imagined because you've been able to create a safe space in your home.
Final words
You can do much to enliven your outdoor space in the cold months. Keeping your warming items handy will help you spend time in your outdoor space instead of feeling trapped indoors in chilly weather. Why stay indoors when you can stay warm, eating from a fire pit table and talking to loved ones in a cozy conversation set?
---