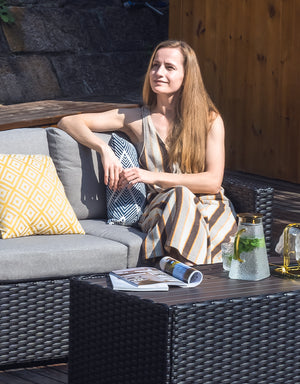 We are not simply a "furniture" company.
We are a human brand.
Why We Start
The world is changing rapidly. With the metaverse just round the corner, the way people connect and interact with each other is about to change dramatically. However, even with life changing paradigm shifts, one thing remains and will remain the same - the need for family and inner happiness.

Happatio was conceived with the idea that the home is the center of the family and the patio is the center of the universe. At Happatio we believe that a positive lifestyle can have a huge impact on success that leads to happiness. By living a comfortable and happy life at home, people will be motivated to achieve success outside the home.

We further believe that becoming better versions of themselves is at the core of human improvement. A passion for life, success and achievement go hand in hand with winning and the sense of belonging.
By being the guardian of high quality outdoor lifestyle experiences and, we craft authentic outdoor furniture with accountability. From a truly classic time of the entire family that gathers around the dining table out in the patio to share a meal, stories and laughter to enabling friends who prefer to spend time with each other in the comfort of their patio while they have a barbecue or an informal drinks session, our product categories cater to a variety of use cases.

We invite you to browse through our collection of true masterpieces of outdoor furniture and experience the sense of happiness that only comes through inner peace and time well spent with family and friends. We will always be with you to pursuit of your happiness.
Our Mission
Empower people to live comfortable and happy lives through our innovative outdoor lifestyle products and our inspirational content.
Our Vision
Help People feel good about themselves, their families, and their lives by awakening their inner essence through happy living!
Our Value
We stick to our values: Authenticity. Positivity. Boldness. Significance. Excellence. Passion. Energetic.
We believe we can make a difference!
Certification Authority
We are dedicated to crafting high quality, unique and sustainable outdoor lifestyle experiences.