Perfect Elements for An Eclectic Christmas Outdoor Entertainment Area
With the winter months comes the exciting feel of the Christmas holiday season. It's always the perfect season to spend time with family and entertain guests! For most people, Christmas is that time of the year to create a lasting impression on guests with their indoor décor. But what if we told you, that you could create a magical entertainment area outdoors for your guest this Christmas? Yes! With a combination of the right elements, you can extend all the fun outdoors while keeping warm in the chilling weather.
Decorating your space for Christmas is fun when you know the right things to do and here's why we'll be showing you the perfect way to decorate your outdoor entertaining area. So, if you've been thinking about what to do with your outdoor area this Christmas, these ideas are perfect for you.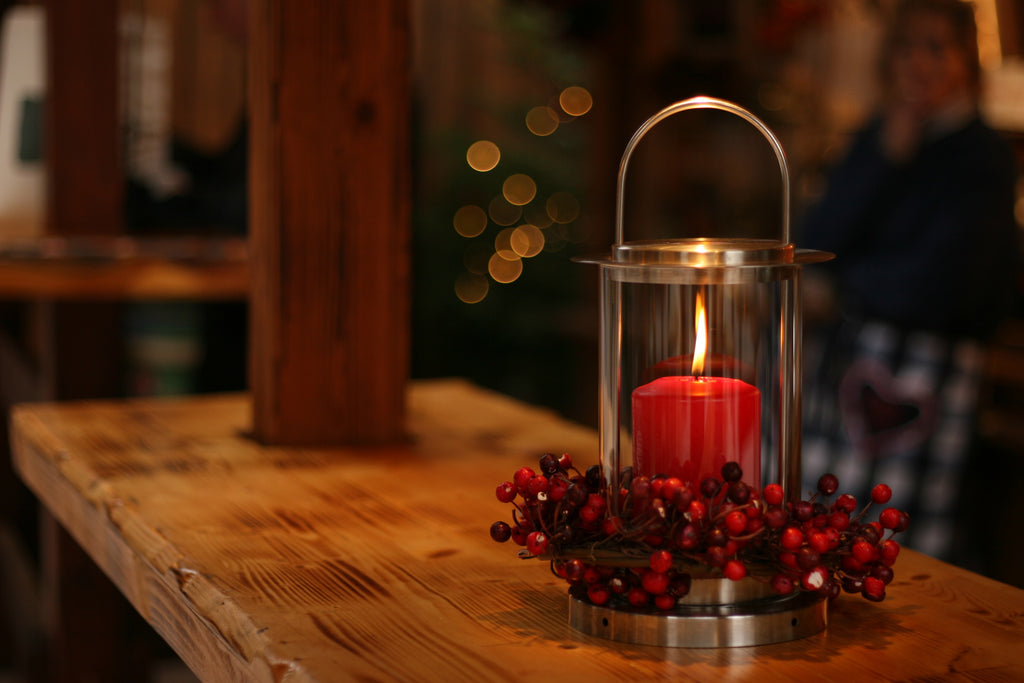 Outdoor Entertainment Area for Christmas: Here's What You Need to Know
Why keep all the fun indoors, when you can enjoy the Christmas air outdoors? There's so much you can do to keep your outdoor area cozy and warm. With the right elements, you can create memorable Christmas moments with friends and loved ones.
Most people tend to spend time indoors primarily due to the low temperatures during the season. If you can't stop nature from doing its thing, why should it stop you from enjoying a perfect Christmas? All you have to do is to prepare your outdoor space to supply all the warmth you need even if the weather is chilly.
If you never thought about this, we've got a combination of must-have elements to make your outdoor space as cozy as it should be this Christmas. With the right warming items for Christmas, you'll never miss the opportunity to catch an exciting time with your loved ones.
Perfect elements to create a cozy outdoor space
Here's a combination of elements to introduce into your space this season.
Set up your entertainment area with fire tables:
Fire tables are the perfect elements to accompany the chilly weather outdoors. Our propane fire pit tables supply a high heat output of up to 50,000 BTUs which is the perfect warmth for Christmas weather. This means you don't have to compromise your outdoor fun for lack of warmth.
It's the ideal table to host guests and create an exciting fire pit ambiance on a chilly day. If you're looking to host an al fresco hangout on a clear day, it comes with a fire pit lid that you could use to create extra dining space. You'll be saving yourself the extra costs of purchasing an outdoor table, as it's perfect for all-season use.
Here are some fire pit options to consider:
The firepit tables are available in up to three designs, so you can go with what's perfect for your taste and space.
Our 42-inch fire pit table

 

is perfect if you're okay with a smaller surface area. Designed with weather-resistant wicker material, you won't need to worry about Christmas-season weather. The smokeless glow of the firepit's lava glass is perfect to set the mood for an exciting Christmas evening. 
The 48-inch rattan fire pit table

 

is ideal if you prefer a larger surface area. Perfect in terms of durability, its PE cane, and aluminum design gives it strength in a class of its own. It also comes with a lid for the fire pit area that converts it into a full outdoor table when the fire area is not lit. Its smokeless propane fuel design makes it the perfect table to dine on a beautiful evening. 
The 48-inch propane fire pit table

 

is your best bet if you prefer an all-aluminum design that offers ample surface area. With an automatic ignition design, you're only one push-button away from warmth. What's more? You have ample space to convert your table into a dining area by setting the fire pit lid in place once you feel warm enough.
Outdoor shade:
Worried about sitting out in the open air? Position an outdoor shade on your patio for enclosed comfort. It's a great option to create the perfect Christmas scenery and carve out a dedicated space for your outdoor space. The beautiful thing is, the shade can come in handy for all seasons and will make a beautiful addition to your patio.
If you have ample space, you can install a gazebo on your patio. It's large enough to hold your furniture pieces and can be beautifully decorated with Christmas lights and garlands.
A pergola is also cool if you prefer something temporal, less imposing, but equally stunning. Setting it up for Christmas and decorating it with string lights can help to make a strong impression on guests and neighbors.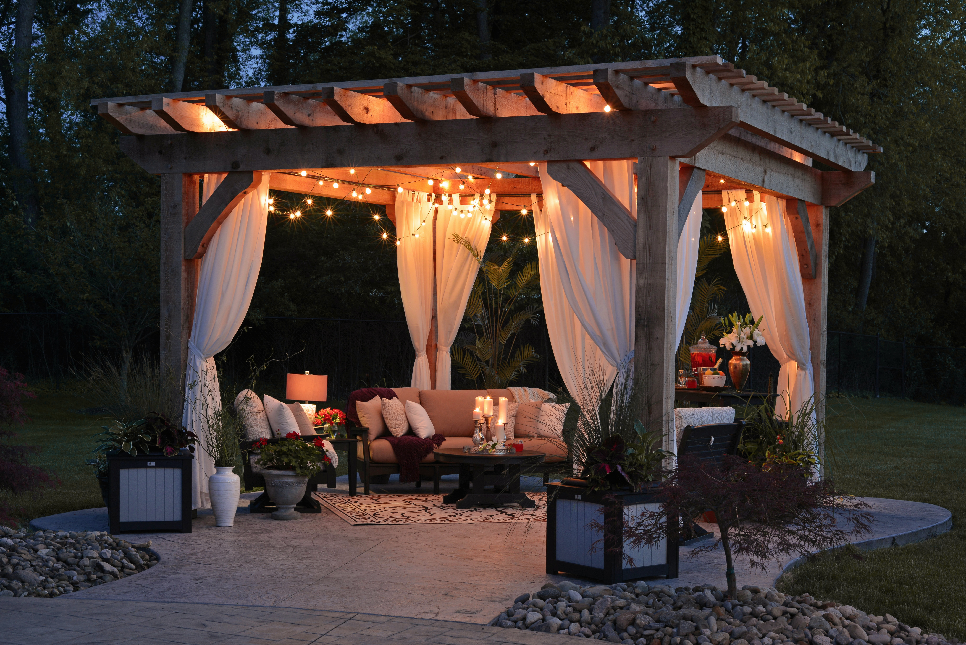 Add decorative elements:
Now that you're all set up, touch up your outdoor entertainment area with the following elements to spruce up for the perfect Christmas feel. What's Christmas without the decorative wreaths, and fairy string lights?
You may choose to incorporate hanging lights into your decor especially if you have an enclosed area. Otherwise, you could set up poles using string lights to mark out where you'd be receiving guests. Additionally, you may consider installing pathway lights to guide your guests to the fire or sitting area.
Decorative Christmas wreaths are impressive additions to your space as well. Choose colorful decorative garlands to add a bust of color to your outdoor space against the snowy backdrop.
Don't forget to introduce led flameless candles as part of your decorative luminaries to give the space a sense of warmth.
Final Words…
Christmas is a great time to connect with friends and loved ones, and you need the perfect space to host them in. Why stay restricted indoors when you've got the space to have all the fun outdoors? With a combination of the right elements—fire pit tables, outdoor shade, and decorative accessories—you're all set up for an exciting and cozy Christmas experience.
---