How To Choose The Perfect Outdoor Dining Sets
A common notion is that the dining area is meant for eating. While this is true, there are more benefits you can derive from the dining area than just eating. It is an excellent place to hold conversations with family members over a delicious meal.
Also, it is an area to enhance family bonding and get in shape as you consume healthy foods.  Due to these reasons, it is always good to have a dining area with an excellent ambiance to encourage a good eating culture. Some even believe that your dining area can impact your appetite.
A crucial aspect of having a great dining experience, especially when you have an outdoor dining set or thinking of having one for the summer, is to have a good dining set.
Suppose you are in need of an outdoor dining set that can help tighten family ties, then the Happatio 5-piece patio dining set is a great option. This guide critically looks into the best tips to follow while choosing the perfect outdoor dining set.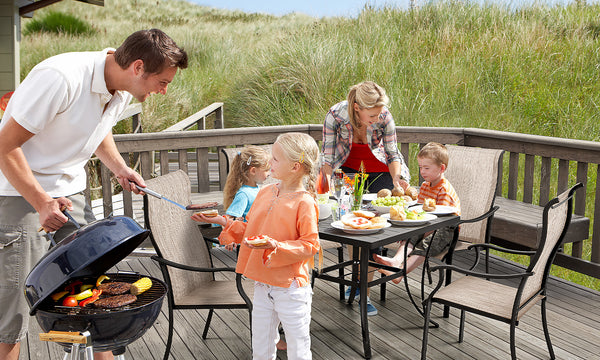 Have a Solid Budget
The general belief that you get what you pay for is valid when it comes to patio dining sets. Even though plastic chairs and tables may look great at first purchase, the question is, will they remain like this after a year or two of constantly being in the sun.
With time, they start to lose their brittleness and vibrant colors. The same should be asked of some outdoor chairs and tables made with wood. They seem to lose their touch after exposure to the sun.
When shopping for outdoor dining sets, you should invest in quality products. Check for reviews before making a huge purchase. An excellent way to get value for your money is to get our 5-piece patio dining set. It is durable and gives the needed comfort when you're outside.
Make a List of What You Need
Investing in quality outdoor dining sets starts with knowing what you want. You should decide the type of dining set, the number as well as if there will be other accessories you'll be needing aside from the dining set.
Having a prepared list of what you'll be needing makes your purchase journey easy. An excellent option for an outdoor dining set is the 5-piece patio dining set being sold by Happatio. You can also get additional accessories like tables and lounge chairs from Happtio.
Select Easy-to-Care Outdoor Furniture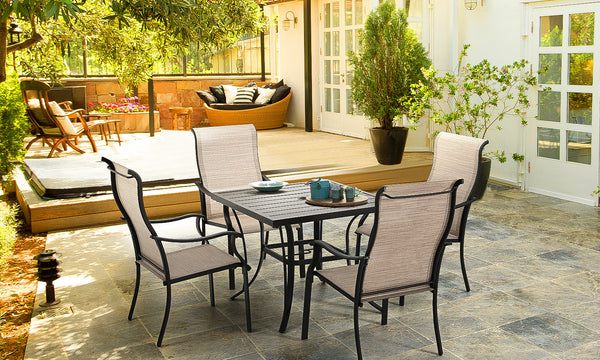 When it comes to outdoor furniture, the bulk of your time should be reserved for enjoying rather than maintaining your outdoor dining sets. Thus, it would be best to search for an easy-to-care patio dining set like the Happatio 5-piece patio dining set. 
Virtually all outdoor dining sets made with either metal, teak, or cedar are not affected by whatever type of weather condition you have. With little energy in cleaning, the materials will always look radiant for years.
To make your dining sets more beautiful, you can also add other accessories like pillows, which you can easily wash.
Ensure the Color Aligns With Your Decor
One thing that may be a bit difficult to achieve when getting an outdoor dining set is getting one that matches the color of your decor. You may be confused about what color to get, especially when you have outdoor tables and chairs. An excellent way to solve this is to get a neutral outdoor dining set. With this, you won't have to worry about what color to get. The 5-piece patio dining set is a great option. You can use it with any outdoor decor.
Think of Where to Store Your Outdoor Dining Set
One of the most important factors to consider when thinking of the type of outdoor dining set to buy is where it will be stored. Storing your dining set properly during the off-season is a good way to add years to the life of your dining set. Storage in places like a garage or basement will further protect it from harsh conditions. Even the toughest dining sets made of metals, teaks, or iron will last longer if properly stored.
Another thing you should consider if your storage space is limited is getting an outdoor table and chairs that can be disassembled for compactness. An example of such is the Happatio 5-piece patio dining set. It can be easily taken apart and stored when the summer season ends.
What is a Happatio 5-Piece Patio Dining Set?
The Happatio 5-piece patio dining set is a summer flagship product of Happatio brand with 5 packs containing 4 chairs and a central table. It is designed such that when not in use, you can disassemble it for storage. If you are looking for a dining set for outdoor use in the summer, then the Happatio 5-piece dining set is a great option.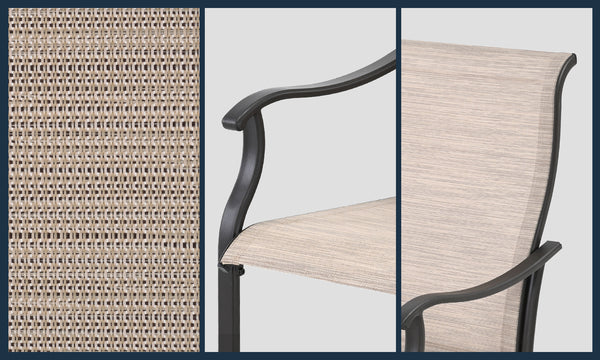 Selective Textilene fabric is the material used in making the chairs. These materials will not make you sweat after sitting for a long period and are also designed to fit your body line perfectly.
The design is ergonomic in nature. Meaning it is human-oriented. Thus, your back pressure is effectively relieved.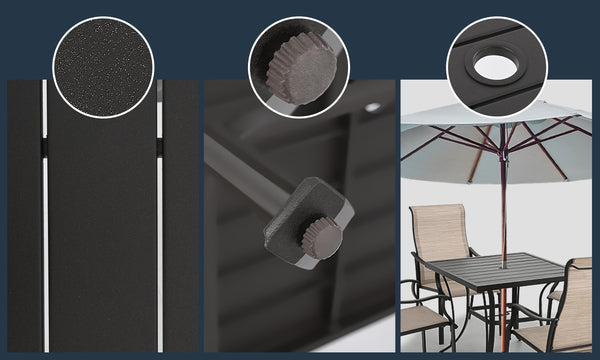 When buying, you don't need to worry about durability because the frames are made of heavy-duty, rust-resistant, and weather-resistant premium metal steel that makes them immune to scratches and harmful UV light. The tabletop is made of metal, making it easy to clean and durable. The table has a dimension of 35"x35"x 28.5", while the 4 chairs are 23"x20"x41" in dimension.
Final Thought
Purchasing an outdoor dining set might at first look like a walk in the park. But when you look at the number of factors that need to be considered, then you'll know utmost attention needs to be given to the buying process.
Follow the tips above to get an excellent 5-piece patio dining set. If you're keen on creating a warm environment for your dining time and building your family moments, reach out to us at Happatio for your 5-piece patio dining set. Our goal as a brand is to help you feel good while having a pleasant time with your family.
---